COVID-19 PRODUCTION
COVID Safety Protocols and Best Practices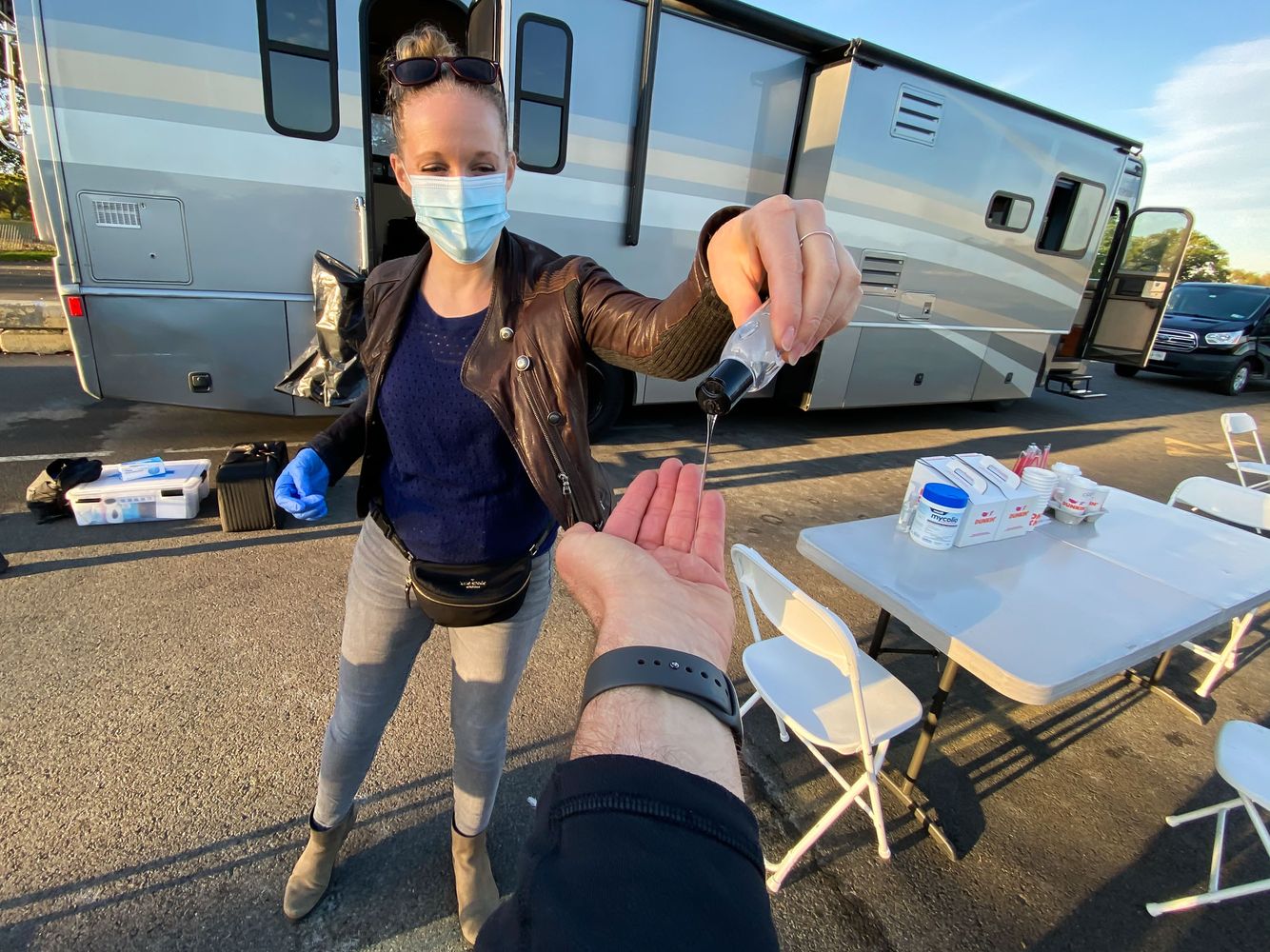 COVID Safety Protocols and Best Practices
COVID Safety Protocols and Best Practices
TNC Productions October 14-16, 2020
Created by Abbey Siegworth, C19CO
This document is sourced from Lionsgate Safety Guidelines, WHO, SAG/AFTRA, New Jersey Department of Health, LA County Public Health Dept, and OSHA
Overarching Focus of this Document: Inherent Change
Both the Company and its Production staff need to continue to focus on what is the current necessity for cast/crew safety & comfort, rather than any former customs/practices. We are entering into a new era in film and still production in which ​flexibility a​nd ​compassion ​need to be in the forefront of everything from development through delivery.
PLEASE READ THOROUGHLY.
Mask Wearing:
-Acceptable Mask Types: N95 (please avoid as there is a PPE shortage for medical personnel), KN95, 3-ply surgical masks, ENVO filtered mask*must be covered by a 3-ply surgical mask.
-Unacceptable Mask Types: Personal cotton masks, masks with valves (these protect the wearer and offer no safety to those around them), bandanas, gators, scarves.
-Masks must be worn fully covering the nose, and bottom of the chin, and with minimal gaping on the sides.
-If your mask is off (for eating, drinking, or taking a "mask break") NO TALKING. If you must speak without a mask on, you must be outdoors and more than 16 feet apart.
Distance​:
-Encourage all cast and crew to self-quarantine for 14 days prior to Day 1. -CLOSED SET.​ NO VISITORS: essential personnel ONLY.
-Remote video village, essential personnel ONLY permitted. 6 ft apart.
Location Prep:
-CCO must be allowed onto set before any other cast/crew to sanitize and prepare the space for shooting. (15-60 minutes, depending on location.)
-Set must have access to fresh air; ideally open doors and windows.​ (Box fans, for example, are considered "spreaders" and can increase transmission of SARS-CoV-2.)
Sanitation​:
-Hand sanitizer must be visible at all times; at CCO station, dining/crafty stations, bathrooms, and all off-camera areas around set.
-All cast/crew encouraged to wash hands frequently (recommended every hour).
-Wearing gloves during a shoot often discourages handwashing and provides a false sense of security. Gloves should be used only when coming into contact with another's bodily fluids (e.g. the CCO during temperature checks; anyone cleaning up used food/water bottles; all catering staff handling food or beverage that will be touched by cast/crew members afterwards.)
Enforcement​:
-No admittance for symptoms of respiratory illness, including fever or cough.
-If you're feeling sick (especially fever, cough, difficulty breathing) stay home, contact your health professional, and then contact your supervisor.
Transport​:
-Vehicle capacity is 1⁄2 normal capacity with windows down and all riders properly wearing masks. (Ex: a 15 pass van is now max capacity of 7 including the driver + windows + masks) -If cast/crew members are "bubbled together" (Ex: partners who live together; parent & child), they are considered 1 rider instead of 2.
-Discourage use of any public transit during shoot dates and 14 days prior.
Testing and Monitoring​:
-Rapid pcr Testing will be administered week of (ideally results within 12-24 hours of shoot date) -A Daily Health Survey will be filled out by every visitor to set, every day, before arrival to track self-reporting of symptoms.
-Temperature checks by infrared forehead thermometer are required prior to accessing set. Every visitor to set must read <100.4 F in order to gain entry.
-ALL OF THE ABOVE ARE REQUIRED FOR ENTRY TO SET.
Craft/Crafty/Dining​:
(if provided by production)
-Individually wrapped/portioned utensils, water bottles, food.
-Individually wrapped food must be labeled by the craft services provider before arriving on set. -All bottled water and individually wrapped food items should be consumed and thrown away in one sitting by the user themselves. Leaving half-full bottles or half-eaten food items lying around is a public health hazard. If one must reserve leftover food for later, it must be kept in a personal bag.
-Large, covered, foot pedal trash bins should be available and visible. (1 trash per 10 people.) -No unwrapped food or snacks should be left on any serving area.
-Communal bowls and containers highly discouraged. (e.g. ice coolers for beverages)
-Craft services must be cordoned off and outdoors to avoid a gathering of cast and/or crew.
-Production should consider operating similar to takeout – no direct service, just individual pickup (ie, pre-packaged sandwiches and snacks). It reduces the need to have to have craft service staff on-site.
-Buffet set up is highly discouraged. If buffet is necessary, ONE designated catering personnel must ​serve f​ ood to the cast and crew as opposed to having the cast and crew help themselves (may not touch chafing dish lids/serving ware,tongs, etc)
-Consider offering crew meal choices in the morning and then have those meals delivered to each individual department.
(alternative options)
-Cast and crew may bring their own utensils, containers, etc. for personal use.
-Cast and crew may bring their own food during shooting. This food must be brought to set at call, as set will be closed and they will not be allowed re-entry if they leave. Communicate that no fridge or microwave is available, for example, in order to lessen the risk of communal spread.
Dining Scheduling:
-Consider staggering meal breaks with cast/crews larger than 20 people.
-Dining area must be outdoors or in a highly-ventilated, large area.
-Strict mask adherence must be followed, especially while dining. (EX: Take a bite, and then "mask up" to talk.)
Shoot Scheduling​:
-10 hours on set (vs 12 or longer hours) may help keep cast and crew rested and immune systems stronger.
-Stagger work schedules. Try to create schedules so that if one pod gets infected, another pod can step in. Avoid having all critical people working at the same time if possible. "Fly In; Fly Out" -The CCO is always pre-called and always the last to leave set.
Cleaning (continual)​:
-"Own Your Zone" re: shoot-specific needs (props master=owns all props in addition to essential actor interaction; DP=solely owns camera; Sound Dept=solely owns lav mics/boom mics and all relative cords; etc)
-"Own Your Zone" re: personal items. No stray personal items allowed on set. (If needed, CCO may lay out taped "lockers" where personal belongings may be kept separate from other items.) -Communal, high touch points (all bathroom elements, door handles, light switches) will be cleaned every hour, on the hour by the COVID-19 Compliance Officer.
Stop The Spread (friendly reminders for on and off set)​:
-Avoid close contact with people who are sick.
-Avoid physical contact – even fist/elbow bumps are discouraged.
-Avoid touching your eyes, nose, and mouth.
-Cover your cough or sneeze with a tissue, then throw the tissue in the trash. If tissue is not available, cough/sneeze into your elbow and immediately wash hands or use hand sanitizer. -Wash your hands often with soap and water for at least 20 seconds, especially after going to the bathroom; before eating; and after blowing your nose, coughing, or sneezing.
-Sanitize all equipment before and after each person uses each item.
Social Distancing While Shooting​:
-Increase physical space between cast and crew members to a minimum of 6 feet. (Exceptions to this are expected during shooting. KN95 masks/Face shields/gloves are encouraged for these closer physical relationships. Face shields are also encouraged for HMU, Wardrobe, and Sound personnel.)
-Encourage all cast and crew to self-quarantine as much as possible while off-set during filming dates
-No crew member should be near cast, unless they are part of the Hair, Make Up, Sound, or Wardrobe Departments. All should be masked and gloved when near talent. Gloves must be changed when shifting between cast members.
Proactive Health Checks​:
-Temperature checks upon entry, and every 12 hours after
-Notify your CCO with any changes to symptoms immediately
-Multiple-Day shoots must implement a testing plan in alignment with local and/or union protocols.
Feeling Sick When At Home​:
-If you're feeling sick with fever, cough, or difficulty breathing, stay home and immediately inform your supervisor.
-If experiencing difficulty breathing, confusion, or blue lips/face, seek medical care right away. -Do not return to work until the Production office clears you to return to work.
Feeling Sick When On Set​:
-If you're feeling sick with fever, cough or difficulty breathing while at work, immediately leave the premises and inform your supervisor via email or text.
-If you are unable to leave the premises, try to find an isolated place to wait/rest until the production can arrange transportation for you.
-Continually and appropriately wear a face mask.
If Exposed​:
-Cast/crew who have been in close contact with a suspected or known case of COVID-19, while that individual was ill, should self-quarantine at home for 14 days​*​.
*That is, 14 days since the date of suspected exposure.​ ​(Johns Hopkins)
-Close contact is defined as being within 6 feet of the ill individual for more than 15 minutes, or having had unprotected direct contact to respiratory secretions of the ill individual (e.g. cough or sneeze on face)